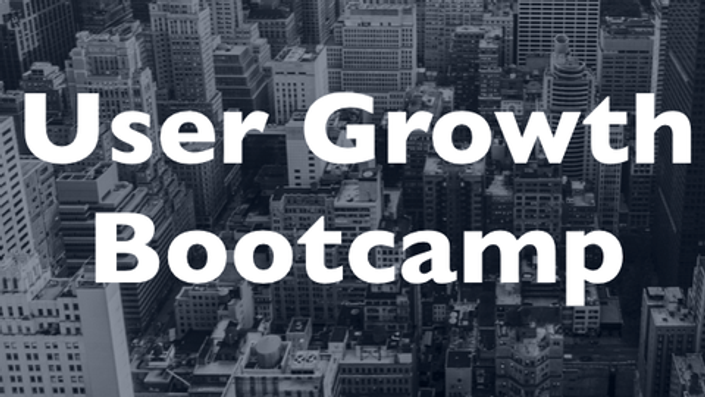 User Growth Bootcamp
Designed for busy Founders and teams, run growth experiments every week under the guidance of experts who've acquired millions of users
Enroll in Course
One of the biggest risks for startups today isn't product, it's acquiring and retaining the right users. Developed originally for the portfolio of Quotidian Ventures, a seed-stage investor in New York City, the User Growth Bootcamp is designed with the busy Founder and growth-focused team in mind.
Instead of implementing with limited experience or spending $10,000+ a month in growth consulting fees, you'll get to make progress every week under the guidance of expert practitioners who've worked to acquire millions of users.

Who Do We Accept?
Startup founders or anyone on a team responsible for user growth.
Program Overview
Every Wednesday, companies will get access to a weekly workshop led by an expert such as Ankur Nagpal whose expertise in viral acquisition brought in 200M non-unique users, Conrad Wadowski of GrowHack, as well as folks who've been featured on Andrew Chen's earlier list of growth hackers to work for Ivan Kirigin (ex-Facebook, ex-DropBox) and Jamie Quint (ex-Swipely).
Each workshop session will focus on a point along your funnel (Acquisition, Activation, Retention, Referral) to help find immediate gains. We'll also brainstorm and help you prioritize unique and high-leverage approaches for your specific product, market and team.

Overall you'll get:
- Weekly instruction and practical feedback from expert instructors.
- Additional weekly office hours coaching and breakouts tailored to your team, stage and product
- Access to over $1,000 worth of in-depth courses in topics such as mobile acquisition, user onboarding and virality which walk through the latest skills in growth hacking.
- A network of domain experts, founders and marketing leads at startups to exchange information and best practices.
Methodology
Instead of trying to fill a "Growth Hacker" role, a strong culture, process and set of current best practices about growth should be built into your company's DNA. For more, see this article on Stop Trying to Hire a Growth Hacker.
1. In-Person Sessions
Each week, we'll have an class led by an experienced practitioner who's helped lead growth to in some cases millions of users. Our goal will be to help you prioritize, implement, measure and get results. Each week, we'll conduct experiments focused on a critical part of your company's user flow: Analytics, Activation, Retention and User Acquisition as well as a Mobile Breakout
2. Weekly Support
Every week, schedule additional time for feedback and walk through your specific growth challenge. You'll get access to a smart community of others running experiments to learn from and motivate you.
Logistics
The program is currently closed but you can apply and get on the interest list here. Space is limited and in person sessions will happen every Wednesday from 6:30-9:30pm in New York City.
In Person: $3,000 per company, $1,000 for each additional team member.
Remote: $1,500 per company, $500 for each additional team member.
A few testimonials
"I previously took a 10-week program a popular education tech company in NYC. Despite the User Growth Bootcamp being 50% the price, I felt it delivered 20X the value of this program. What's different is that it's not geared towards beginners, and dives deep into processes, tools and numbers. Every class was taught by an expert, and I walked away from each class with ideas I can apply
James Lin, Entrepreneur and Software Developer. Previously, Options Trader at Morgan Stanely.
.the bootcamp was great. The progression of topics worked well, and provided many actionable hacks we've already begin to implement and test. All the speakers were very knowledgeable and I would definitely recommend this to anyone selling anything in the digital space. Thank you.
Jay Deiboldt, Founder at Gamzio Mobile, Inc (OTCQB:GAMZ)
I was concerned that the classes wouldn't fit my schedule, but I was quite pleased with the streaming option when my schedule didn't allow me to attend in person. I was surprised by the strong group of companies in the classand learned so much from their examples and input on the challenges we're facing at ListenLoop. I highly recommend User Growth Bootcamp because you'll learn working processes that you can implement TODAY that will help grow your company
Rodrigo Fuentes, Co-Founder and CEO at ListenLoop
Your Instructor
Welcome to the GrowHack Subscription, the leading source of information for repeatable growth.
Frequently Asked Questions
How am I able to participate as an online company?
Companies accepted online get access to a livestream session and Q&A in each workshop. By the beginning of every week, you'll also get access to a high-quality recording, online community and the coaching sessions to keep you making progress.
What is the right type of company to apply?
Accepted companies come from a variety of focus and stage, from concept to companies with financing. An optional breakout class will be available for mobile companies which will cator to mobile specific challenges.